At Grand Beach Weddings we know many times some of you want something special and a little different at your wedding so we are glad to offer you Elvis at your beach wedding.
Yes you can now have a professional Elvis impersonator sing at your beach wedding. He can sing as your guests are coming to the beach and sing as you walk down the walk way and sing after your wedding as you walk down.
Its a hunk a hunk of burning love on the beach as Elvis sings for you at your beach wedding. Elvis is now a wedding add on in our custom wedding package designer.
You will be able to talk with him about any special songs you would like him to sing he also can sing many other non Elvis songs as well.
What fun you and your wedding guests will have no need to go to Vegas to get some Love me tender, Blue suede shoes, Hound dog and more bring the excitement of Elvis to your beach wedding.
Elvis is available for all our beach wedding packages large or small.
Our Elvis impersonator brings a custom made guitar that is a battery powered, karaoke, guitar. sound system with built in mike so he can walk around and sing right on the beach for you and your wedding guests. You can also add on beach wedding video production to your package as well.
Planning a beach wedding we offer Pine Island beach wedding services 7 days a week year round. We are the Hernando County wedding company to call for your beach or other location weddings.
We offer full Pine Island beach wedding setups that can include bamboo wedding arch or arbor with a decorated walkway. You can pick a white, pink or tropical flower or no flowers you can also pick fabric colors and many other extras.
All packages come with a wedding minister and professional photography and full setup and take down and filling of your marriage license.
To book your Pine Island beach wedding call Donna at (352) 232-9112 we are located in Spring Hill Florida.
From small walk out on the beach weddings to full setups we have many different designs to pick from for your Hernando County beach wedding.
Grand Beach Weddings is a beach wedding company that offers Florida beach weddings in Clearwater, St. Petersburg, Indian Rocks Beach, Treasure Island, Redington Beach.Tarpon Springs and for all Pinellas County, Tampa Bay and Hernando county areas.
Grand Beach Weddings offers Florida beach weddings 7 days a week from a small walk out on the beach and get married weddings like their Grand affair package to full-featured wedding packages that include bamboo or other wedding arch or arbor setups. They even have lanterns as part of a wedding setup, wedding chairs and more can be added to each custom package. All wedding packages include professional photography and wedding minister with complete setup and take down for each setup.
On their wedding packages page on their website, you can create your own custom beach wedding packages by picking the wedding setup you want, the flower colors and accent colors and lots more.
You can also add a decorated walkway with matching flowers and then add on other extras,
Need chairs on the beach for your guests you can add on white wedding chairs that can be covered and color sashes added to them so you end up with a full wedding package just the way you want it.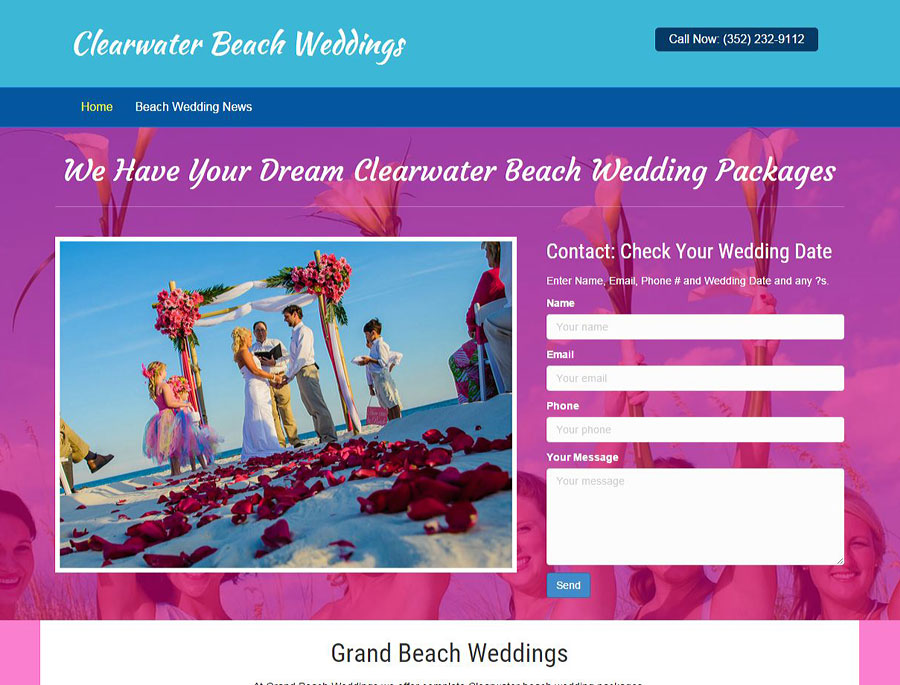 What about Elvis? As a special treat, Grand Beach Weddings offers an Elvis impersonator that can come to the beach and sign at your wedding or he can sign and perform the full wedding as your minister as well this all makes for a great time and a beach wedding to remember.
The new Grand beach weddings website is done by Go Active Media in Spring Hill Florida. The site features a responsive design with a wide layout so it works great on a cell phone and all other devices. It also features a custom create your own wedding package they add up a total for you as you create your custom package.e
If you are planning a wedding and would like to get married is Pinellas or Hernando county on the beach or other areas check out the new website as they offer everything you need for the perfect beach wedding seven days a week. See the beach wedding photo gallery to see a hundred wedding photos to see the quality of photography you can expect from the Grand beach weddings photographer. The photographer. is also the owner of the beach wedding service company so you know you will always get the same great photographer for your Florida beach wedding. They offer weddings on the beach 7 days a week year round give them a call at (813) 981-3423